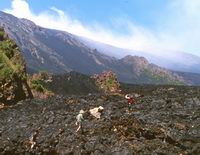 "Valle Del Bove" caldera and its surrounding walls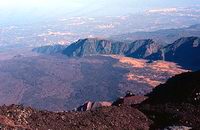 Valle del Bove caldera from the top
An Etna tour can be tailor made following your needs. lan your personal Etna excursion with the VolcanoTrek's Team. This type of excursions can be tailormade to create a unique holiday for your individual requirements by an high planning flexbility and our efforts to meet your requests.

Despite of the solitude and asprezza del luogo, you will be never alone walking in this volcanic landscape, the presence of the Etna volcano is everywhere around you: in the intimate structure of the rocks and their morphologies so as in rumble of the main craters overlooking you from. It will overelm you. will It will be there walking inside its secret You will fill civilization miles away from you.

In compagnia di un geologo e guida ambientale-escursionistica del team VolcanoTrek si inizierà il percorso su Etna Sud con la risalita del crinale della Schiena dell'Asino. Arrivati alla sua sommità si aprirà davanti a noi uno scenario magnifico, la Valle del Bove. Una enorme depressione calderica (7x5Km) originatasi dal collasso di antichi vulcani, le cui pareti raggiungono in alcuni punti i 1000m di altezza. Sulla sinistra i crateri sommitali, ed i coni di scorie delle eruzioni 2001 e 2002, sino alla visione della città di Taormina e delle coste calabre. Sotto di noi un mare nero di lava solidificata, emessa durante l'eruzione 1991-93 e che ha ricoperto la vasta area pianeggiante del "Piano del Trifoglietto". Con una ripida discesa scenderemo verso il fondo di questo catino naturale, per poi camminare al suo interno costeggiandone le pareti e dirigendoci verso valle. Si incontreranno lave dalle più disparate morfologie (a corda, piane, a budella, tumuli ect.) e dall'enorme spessore. Dopo un breve pranzo, si continuerà il percorso sulle lave sino ad incontrare un sentiero che attraversando un bosco di faggi, ci porterà nuovamente sul un crinale e da lì scenderemo sino ad una delle poche sorgenti d'acqua presenti sul vulcano. Non manca, se richiesto, la possibilità di visita ad una delle tante grotte di scorrimento lavico (oltre 200) dell'Etna.