---
CANARY ISLANDS and TEIDE VOLCANO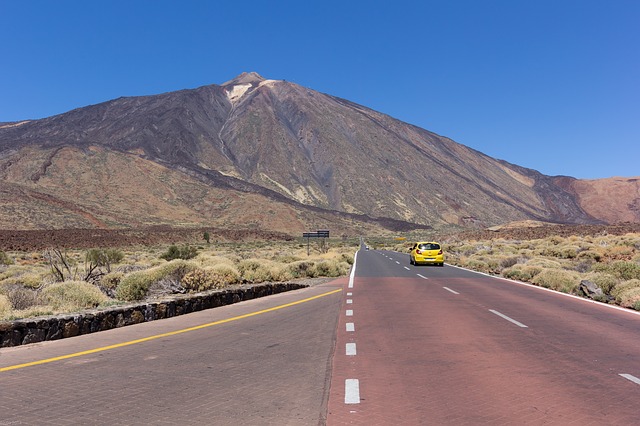 Pico del Teide (Tenerife)
12198 ft (3718 m) Highest point in Spanish territory .

Location:
Tenerife in the Canary Islands, NW of Africa
Lat / Long:
28.3° N, 16.6° W
Volcanic Type:
Stratovolcano
Volcanic Status:
Active, last eruption 1909
First Ascent:
R. E. Scory, 1582
Lift Served Vertical:
3900ft (1200 m), summer only
With expanses of black sand, green pine forests, red rock formations, charcoal-grey lava fields and white clouds which sometimes billow like a skirt around the waist of El Teide, Spain's highest peak, Tenerife is an island of many different colours. It is also an island of stark contrasts, its topography as dramatic as the volcanic activity that shaped it so many millennia ago, and walking here is immensely rewarding.
To explore Tenerife's little-known north-west corner on foot is to discover a side to the island that few visitors experience. Here, inspirational views stretch far across the sea and up to El Teide, whose towering peak surveys the varied landscapes, adding drama to the scenery wherever you are walking. Our holiday reveals the fertile coastal plain (dotted with banana plantations) and the alternating expanses of pine forest and black volcanic sand that lie behind it, while our thrilling - and highly recommended - extension takes you into the desert-like lava fields of the Teide National Park above the cloud line. The routes involve more descent than ascent, but all will satisfy keen walkers.
Nights: 7 (or 10 with extension)
Grade: 2-3
Terrain: paths and tracks across volcanic landscapes and pine woods
Meals: breakfast every day, dinner on 4 nights, plus 2 picnics (extension includes dinner on 7 nights)
Climate: Tenerife is often referred to as the 'island of eternal spring' because of its year-round mild climate. The table below gives average temperatures for the island, though it is always considerably cooler at the high altitudes of the Teide National Park – it takes only an hour to drive from the coastal plain to the Park, but the two areas are completely different, not just in landscape but in climate too.
| | | | | | | | | | | | |
| --- | --- | --- | --- | --- | --- | --- | --- | --- | --- | --- | --- |
| Jan | Feb | Mar | Apr | May | Jun | Jul | Aug | Sep | Oct | Nov | Dec |
| 18.5 | 18 | 19 | 19.5 | 20 | 22 | 24 | 25 | 25 | 23.5 | 21.5 | 19.5 |