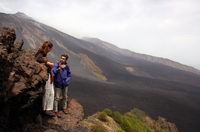 Valle del Bove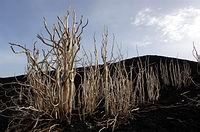 Vents of the 2002-03 Etna eruption
During this excursion, we'll visit the south, east and north sides of Etna volcano drammatically interested by some recent eruptions (2002-03, 2001, 1991-93, 1983, 1979, 1971).

In the morning, after the meeting, we'll follow a short but steep path on the Etna's south slope to reach the Valle del Bove caldera rim and observe from a panomaric point this famous and huge depression (7x5 Km). In front us it'll possible to see the main craters, the 1991-93 and the 2008-09 lava fields, and the lava flows of the several eruptions having taken place between 2011 and 2015 from the SE main crater. Return to the starting point (short trekking - 2h and 30m)
Excursion continues with the visit of a tipical lava tunnel cave*, supplied with provided helmet of emergency and torchs.

Later, by car goes on the other side of the mountain (1 hour by car) crossing woods and lave zones of the eastern side.

After a lunch break, arrived at Piano Provenzana, a short hike will make possible to visit the others eruptive vents, created from the eruption of the 2002 along the northern slopes (2002-2003 along the southern slopes). Infact this eruption was a radial eruption (lasting about 10 days) along the northern slopes and an eccentric eruption (lasting about 3 months) along the southern Etna slopes. Before to close our walk we'll visit the old hornitos of the 1923 eruption and the Mt. Nero (1646 eruption).

On the way back a "bel cappuccino" wait for us in a bar of the touristic area.