You Are IN
»
Home
>
Mount Etna Tours and Excursions
>
Etna Educational tour
---
ETNA CAVES EXCURSION -
SPELEO EDUCATIONAL TOUR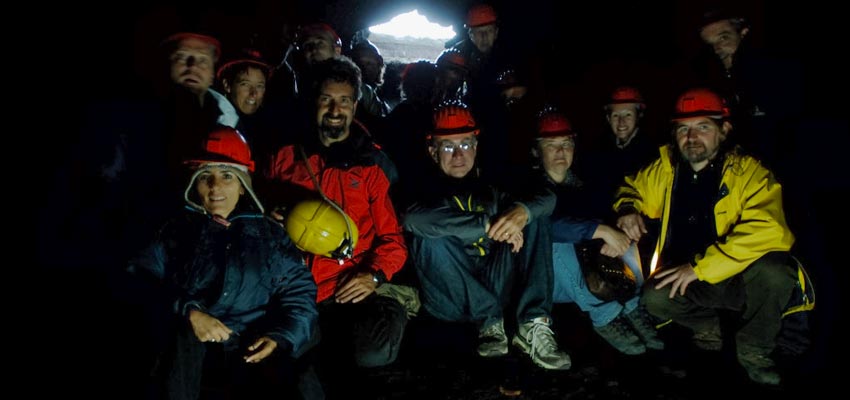 Exploring Etna caves with one of the best Belgian groups of customers ever
Typology: Educational tour - walk with a geologist / volcanologist
Difficult: MODERATE
Duration: Full Day -8 hours(8.30-16.30)
When: all year around
Price: 85.00 Euro per adult (group tour). 30% discount for children under 10 years
Private Tour on request - rates at the bottom page
Etna educational tour

-

The "Etna Caves and lateral eruptions"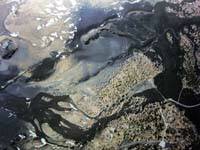 Aerial view of
the 2002
eruptive fracture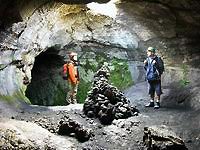 Grotta Dei Lamponi (lava tunnel)
Etna educational tour is not like the usual tours designed for the tourist masses, this excursion visits places among the most beautiful and characteristic of the Etna Volcano. The itinerary starts at the town of Piano Provenzana at the base of the mountain, an area totally covered with the lava flow from the eruptive fracture in 2002. As we explore this area, we will also visit the eruptive vents dating back to the 1923 eruption and Mount Nero, a huge prominent volcanic cone. Following the rapidly-descending pathway, we arrive at the modest mountain refuge at Mount Timpa Rossa. After a short break, we cross a magnificent beechgrove and arrive at the so-called 'Passo dei dammusi', a mountain pass covered with characteristic roped lava from the eruption in 1614-1624. Beneath this lava surface, we will explore some of the most striking volcano's lava tubes , including " Grotta dei Lamponi". The trek to this cave is an easy one and as an extra safety measure, VolcanoTrek will provide each participant with a safety helmet fitted with an electric head light. On our way back, we will marvel at more spectacular Etna landscape as we follow the forest track passing the handsome pinegrove 'Pineta Ragabo'.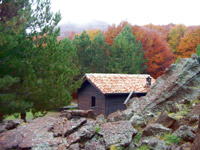 Timpa Rossa mountain refuge
What you will see:
Eruptive fracture of 2002 - eruptive craters and lava fields | Eruptive fracture of 1923 | Mt. Nero volcanic cone (1646 eruption) | Timpa Rossa mountain refuge and surronding beech wood | "Piano Dei Dammusi" mountain pass (pahoehoe lava field of 1614-24 eruption) and its lava tunnels | Grotta Dei Lamponi* (volcanic cave) |"Pineta Ragabo" pinegrove.
Geological and Nature Highlights:
Lava trees, Hornitos, Eruptive fractures, Cinder cones, Spattern cones, Monogenic cones, Volcanic bombs, Pahoehoe lava (including: slabby lava, rope lava, pressure ridges, ect.), aa lava, formation of lava banks
*Safety helmets and flash light are provided by VolcanoTrek.
Itinerary details
| | |
| --- | --- |
| Tipology: | Geological Trekking |
| Difficulty: | Average |
| Duration: | 7 ore |
| Distance | 11 Kms |
| Gradient: | 150 ms Uphill / 475 ms downhill |
ADDITIONAL INFO
Service is operated in English. For other languages, please contact us.

Participants should wear trekking shoes suitable for rugged terrain or jogging shoes at least, and a wind-proof jacket. A rucksack can be usefull, too.

This excursion is graded EASY (for all ages). However, weather conditions apply (strong winds, cold and snow, even in summer).

All participants must be in good health (no asthma, no respitory disorders, no heart problems, no blood pressure problems).

Period: Excursions are scheduled throughout the entire year (in winter, snow shoes will be provided)
RATES
GROUP TOUR
Price per person: 85 euro
PRIVATE TOUR
Persons

1

person
2 persons

3

persons
4

or more

persons

Price per Person

19

5 Eur
1

3

5

Eur

95

Eur

85

Eur
Price Includes:
Tour escorted by a qualified geologist/volcanologist from the VolcanoTrek Team and naturalistic local tour guide

Equipment necessary for cave excursion (safety helmet + electric head light)

Pick-up and drop-off at your hotel or at any other location.

Food and drinks-Lunch Break (only having a full day tour) with delicius sicilian food. Please let us know your diet (vegetarian..)

Complimentary information booklet and CD

Full accommodation search assistance
Pricing Policy:
30% discount for children under 10 years

Prices are in Euro and are subject to change
PAYMENT and BOOKING Travel Voucher

To book email: info@volcanotrek.com or fill our Booking Form
T: (39) 333 2096604

For every confirmed booking you will be required to print a voucher which is presented at the destination. You will receive a link to your voucher via email once your booking is confirmed.


BACK TO Etna Educational Tour