You Are IN

»

Home - ACTIVITIES

>

Etna Excursions

>

Etna Grand Tour
---
ETNA VOLCANO GRAND TOUR:
high slopes and last eruptions
Typology: Sightseeing Tour with a geologist/volcanologist
Difficult: EASY
Duration: Full Day - 8 hours (8.30-16.30)
When: since April until November
Price: 89.00 Euro per adult (Full day group tour). 30% discount for children under 10 years
Private Tour on request - rates at the bottom page

Turists standing at 3000ms a.s.l. (highest point being reached during this tour) on the 2002-2003 eruption cinder cone rim observing the Etna summit craters (3320ms) as seen on July 5th 2018

E
tna Grand Tour

- Itinerary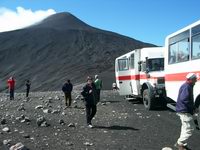 ETNA's main craters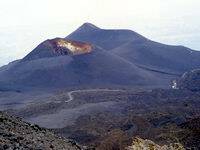 Explosive

pyroclastic cone

of the 2001 Etna eruption
Etna Volcano Grand Tour will permit a complete overview of Mt. Etna, and in particular of some last eruptions. We'll visit the south side (*), the Etna high southern slopes up to 3000ms (without reach the Etna summit at 3320ms as during our Etna summit craters excursion), than the estern and northern slopes of the Etna volcano.

In the morning, from Rifugio Sapienza (1900m), begins the tour toward the main zones (2900m), by the cableway and the 4WD bus. It arrives at the foot of the majors craters where it's possible to visit the eruptive vents of the 2002-03 (south side), placed on the southern side of the mountain.

Being at the top of them it will be possible to see a beautiful view of the huge volcanic amphitheatre of the "Valle del Bove", main craters and surrounding areas than we'll go back the Rifugio Sapienza by cableway.

The excursion continues with the visit of a tipical lava tunnel cave, Safety helmets fitted with an electric flash lights will be provided by VolcanoTrek.

Later, will go to visit the northern slopes of the Etna volcano (40 minutes by car) crossing forets and lave fields of the eastern side.

After a pic-nic lunch break, arrived at Piano Provenzana, a short hike will make possible to visit the others eruptive vents, created from the eruption of the 2002 along the northern slopes. Infact this eruption was a radial (north slope) and eccentric (south slope) eruption with more than one eruptive fracture on different Etna slopes. Crossed it we'll visit the old hornitos of the 1923 eruption and the Mt. Nero (1646 eruption).

* the order of places visited during the trip may change or some of them can be deleted based on the volcanic or weather conditions.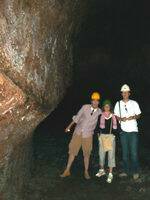 Cave (lava tunnel) visit
Highlights:
M.ti Silvestri | Eruptive fracture of 2001 - vents and lava field | Eruptive vents and lava flow of 2002-03 eruption (south side) | Main Craters | 1792 Lava field and volcanic caves* (Grotta Tre Livelli, etc) | Eruptive fracture - vents and lava flow of 2002-03 eruption (north side).

Geological and Nature Highlights: Lava trees, Hornitos, Eruptive fractures, Cinder cones, Spattern cones, Monogenic cones, Volcanic bombs, Pahoehoe lava (including: slabby lava, ropy lava, pressure ridges, ect.), aa lava, formation of lava banks
ADDITIONAL INFO
Tour is operated in English. For other languages, please contact us.

Participants should wear trekking shoes suitable for rugged terrain or jogging shoes at least, and a wind-proof jacket. A rucksack can be usefull, too.

This excursion is graded EASY (for all ages). However, weather conditions apply (strong winds, cold and snow, even in summer).

All participants must be in good health (no asthma, no respitory disorders, no heart problems, no blood pressure problems).

Period: Etna Volcano Grand Tour is scheduled between April and November
RATES
PRIVATE TOURS - RATES for ETNA By 4WD
30% discount for children under 10 years

Number of Persons:

1

2

3

-5

4

6-

8

Price per Person

FULL DAY

205,00 Euro

1

3

5,00 Euro

115,00 Euro

99,00 Euro

95

,00 Euro




GROUP TOURS
(not private You will be jointed with other persons)
RATES for ETNA By 4WD
30% discount for children under 10 years

Duration:

Full Day

Price per Person

89,00 Euro
Price Includes:
Tour escorted by a qualified geologist/volcanologist from the VolcanoTrek Team and local tour guide

Equipment necessary for cave excursion (safety helmet + electric head light)

Pick-up and drop-off at your hotel or at any other location.

Food and drinks-Lunch Break with delicius sicilian food and wine (Cerasuolo di Vittoria, Nero d'Avola or Etna). Please let us know your diet (vegetarian..)

Complimentary information booklet and CD

Full accommodation search assistance
Price does not include:
Cableway + 4x4 Ticket (64,00 EURO) to the foothill of main craters.
Pricing Policy:
30% discount for children under 10 years

Prices are in Euro and are subject to change
PAYMENT and BOOKING Travel Voucher

To book email: info@volcanotrek.com or fill our Booking Form
T: (39) 333 2096604

For every confirmed booking you will be required to print a voucher which is presented at the destination. You will receive a link to your voucher via email once your booking is confirmed.


BACK TO TOP