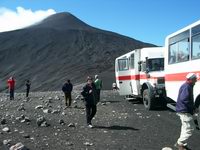 ETNA's main craters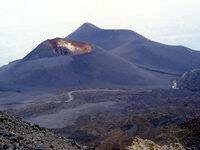 Explosive vent of the 2001 Etna eruption
This excursion, permits a complete overview of Mt. Etna, and in particular of the 2002-2003 eruption. We'll visit the south side (*), the summit areas (up to 2900ms), the estern and northern slopes of the Etna volcano.

In the morning, from Rifugio Sapienza (1900m), begins the tour toward the main zones (2900m), by the cableway and the 4WD bus. It arrives at the foot of the majors craters where it's possible to visit the eruptive vents of the 2002-03 (south side), placed on the southern side of the mountain.

Being at the top of them it will be possible to see a beautiful view of the huge volcanic amphitheatre of the "Valle del Bove", main craters and surrounding areas than we'll go back the Rifugio Sapienza by cableway.

The excursion continues with the visit of a tipical lava tunnel cave, supplied with provided helmets and flash lights.

* the order of places visited during the trip may change or some of them can be deleted based on the volcanic or weather conditions.

Later, will go to visit the northern slopes of the Etna volcano (40 minutes by car) crossing forets and lave fields of the eastern side.

After a pic-nic lunch break, arrived at Piano Provenzana, a short hike will make possible to visit the others eruptive vents, created from the eruption of the 2002 along the northern slopes. Infact this eruption was a radial (north slope) and eccentric (south slope) eruption with more than one eruptive fracture on different side of Etna. Crossed it we'll visit the old hornitos of the 1923 eruption and the Mt. Nero (1646 eruption).