You Are IN

»

Home

>

Mount Etna Tours and Excursions

>

Etna Sunset tour
---
ETNA SUNSET TOUR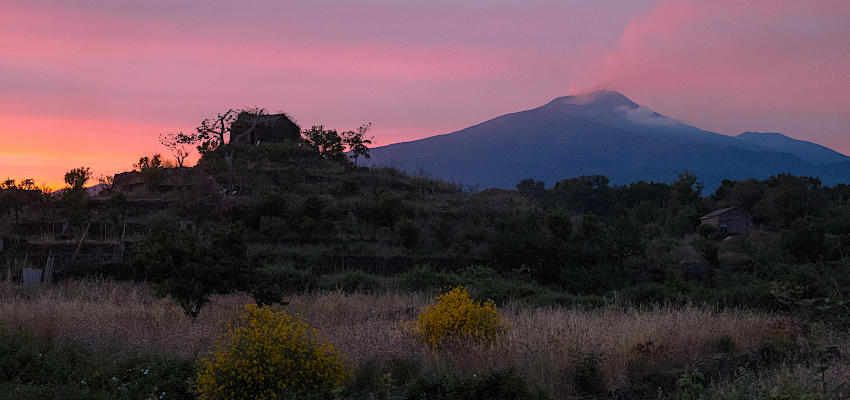 Walking on a lateral Etna crater rim during the sunset tour

.
Excursion name: ETNA SUNSET TOUR
Typology: Tour with guide escort, several point of interest and short trekking
Difficult: EASY
Duration: Half Day - 5.00 hours (16.00-21.00)
When: all year around
Price: 65.00 Euro per adult (group tour). - private tour rates at the bottom page

ETNA SUNSET Itinerary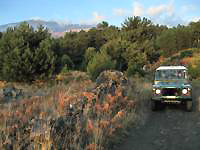 Driving on the way back
Etna sunset tour is an afternoon exploration of mount Etna volcano including a wonderful quite easy walk along natural trails surrounded by extinct craters, caves, lava flows and great landscapes on the volcano slopes tinged with the warm colors of the sunset. A good way to enjoy the volcano during the cooler hours of the day. An occasion to have nice and interesting talks with one of us about the mount Etna to better understand its structure and related fenomena. Fun and education is guaranteed for all you, families and kids included. Just try it.

The excursion will start from your accomodation or from a pick up place. Our knowledgeable and enthusiastic guides will show the Etna landscapes and wildness, endemic flora and geological features explaining the surrounding fragile environment. Having care of it, we'll take you following off-road itineraries through Etna's lava fields always driving on tracks, exploring caves, and walking to reach the "Valle del Bove" Caldera's rim, immense theatre of some major last eruptions.
After the visit of a lava tunnel and having had a pic-nic lunch with sicilian food and wine, VolcanoTrek's guides will drive you up to 2000 meters, from where we will walk across the lava flows of the 2002 eruption up to the 2002 eruptive fissure (2 hours long roundtrip walk )* to experience the incredible power of nature that surrounds you.
* On request, it's possible a shorter walk .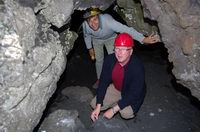 Cave exit (lava tunnel)
Highlights: Eruptive fracture of 2002 eruption - vents and lava field | Piano Provenzana area and its destroyed touristic facilities | Valle del Bove" Caldera | Lava tunnel** (volcanic cave)|.

Geological and Nature Highlights:
eruptive fractures, cinder cones, spattern cones, monogenic cones, volcanic bombs, aa lavas, formation of lava flow banks and lava tunnels**.
**Safety helmets and flash light are provided by VolcanoTrek.
PHOTO GALLERY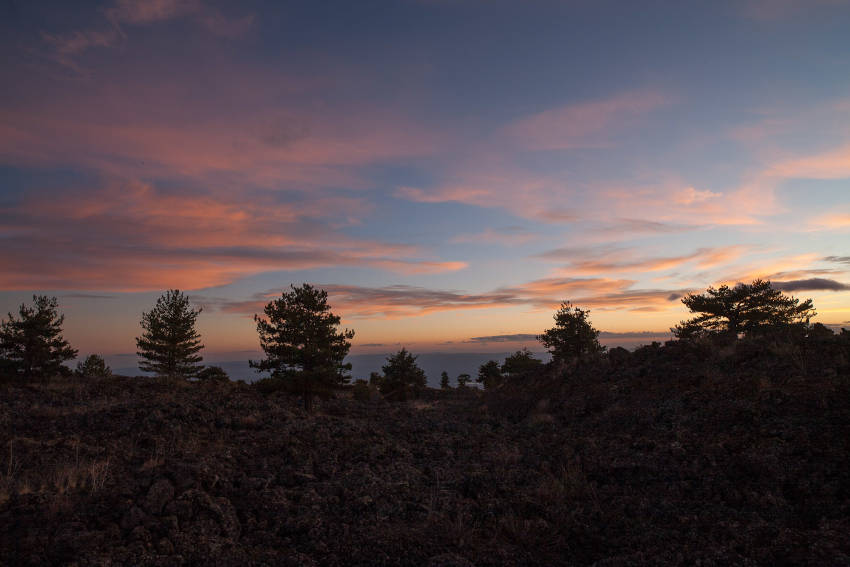 ADDITIONAL INFO
Visit is operated in English. For other languages, please contact us.

Participants should wear trekking shoes suitable for rugged terrain or jogging shoes at least, and a wind-proof jacket. A rucksack can be usefull, too.

This experience is graded EASY (for all ages). However, weather conditions apply (strong winds, cold and snow, even in summer).

All participants must be in good health (no asthma, no respitory disorders, no heart problems, no blood pressure problems).

Period: Excursions are scheduled throughout the entire year
RATES
ETNA SUNSET (Private Tour)

30% discount for

children

under 1

0

years

Number of Persons:

1

2

3

4

5-8

Price per Person

FULL DAY

195,00 Euro

115,00 Euro

105,00 Euro

89,00 Euro

75

,00 Euro






ETNA SUNSET (Group Tour)


(not private

You will be jointed with other persons

)




30% discount for

children

under 1

0

years

Duration:

Full Day

Price per Person

65,00 Euro

GROUP RATES and INCENTIVES (more than 8 persons and T.O.)
Price Includes:
Half day long lasting visit escorted by a qualified geologist/volcanologist from the VolcanoTrek Team and naturalistic local guide

Equipment necessary for cave excursion (safety helmet + electric head light)

Pick-up and drop-off at your hotel or at any other location.

Food and drinks-Lunch Break (only having a full day tour) with delicius sicilian food and wine (Cerasuolo di Vittoria, Nero d'Avola or Etna). Please let us know your diet (vegetarian..)

Complimentary information booklet and CD

Full accommodation search assistance
Pricing Policy:
30% discount for children under 10 years

Prices are in Euro and are subject to change
PAYMENT and BOOKING Travel Voucher

To book email: info@volcanotrek.com or fill our Booking Form
T: (39) 333 2096604

For every confirmed booking you will be required to print a voucher which is presented at the destination. You will receive a link to your voucher via email once your booking is confirmed.


BACK TO TOP
Info & Booking
phone
:
+39 333 2096604
email:
Mount Etna Excursions