You Are IN
»
Home
>
Mount Etna Tours and Excursions
>
Hiking the big caldera - Valle del Bove
---
ETNA HIKE
The "Valle del Bove Caldera"

"Valle Del Bove"panoramic view.

By the Etna hike we'll reach the valley rim on the left and than will walk down to cross the dark 1991-1993 lava field on the left background.
Typology: Hike - Private Escorted
Difficult: MODERATE
Duration: Full Day - 7 hours (8.30-15.30)
When: all year around
Price: see rates at the bottom page

Etna hike itinerary to the main caldera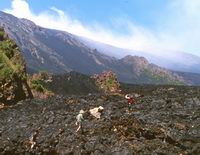 "At the huge caldera bottom surrounded by high rocky walls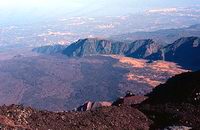 Main caldera as seen from the top
Etna hike to the "Valle del Bove" is an adventure walk inside the main caldera, showing you a wonderful scenary and a moon landscape. A so exciting educational hike on the volcano, so as to leave you enriched in soul and mind.

Despite of the solitude and harshness of the place, you will be never alone walking in this volcanic landscape. The mountain of fire presence is everywhere around you during your trekking: in the intimate structure of the rocks and their morphologies so as in rumble of the main craters overlooking you from. It will overelm you, feeling civilization miles away from you.

A geologist and guide of the VolcanoTrek's team will start the journey from the southern volcano slope by the ascent of the ridge of the Schiena dell'Asino. At its top, a magnificent scenery opens up before us, a 5.5x7 Kms diameter amphitheatre-shaped depression in the eastern side of the volcano cutting deep into its flanks and being open the seaward side. The valley was originated by the lateral collapse of ancient volcanic structure and its walls reach in some points the 1000m of height. The view is majestic, on the left the summit craters, and the scoria cones of the 2001 and 2002-2003 eruptions, up to the vision of the city of Taormina and the Calabrian coasts. Below us is a black sea of ​​solidified lava, emitted during the 1991-1993 eruption and which covered the vast flat area of ​​the "Piano del Trifoglietto".

With a steep descent we will descend towards the bottom of this natural basin, and then walk inside, skirting the walls and heading towards the valley. You will meet laves from the most diverse morphologies (rope, flat, guts, tumuli ect.) And the enormous thickness.

After a short lunch, the Etna hike will continue on the lava floor until we meet a path that through a beech forest, will take us back to a ridge and from there we will descend to one of the few water sources on the volcano. Do not miss, if required, the opportunity to visit one of the several (over 200) lava tunnel caves
Geological and Nature Highlights:
2001 eruption site | 1892 eruption volcanic cones (Mti Silvestri) | 1766 lateral craters | viewpoint on the Valle del Bove | 1991-1993 Eruptive fissure | Attraversamento dei 1991-1993 eruption lava field | Ropy lava and bocche effimere | volcanic dikes |
**Safety helmets and flash light are provided by VolcanoTrek.
Itinerary details
| | |
| --- | --- |
| Tipology: | Geological Trekking |
| Difficulty: | Average |
| Duration: | 7 ore |
| Distance | 5/6 Km |
| Gradient: | 200 m |
TOUR PHOTO GALLERY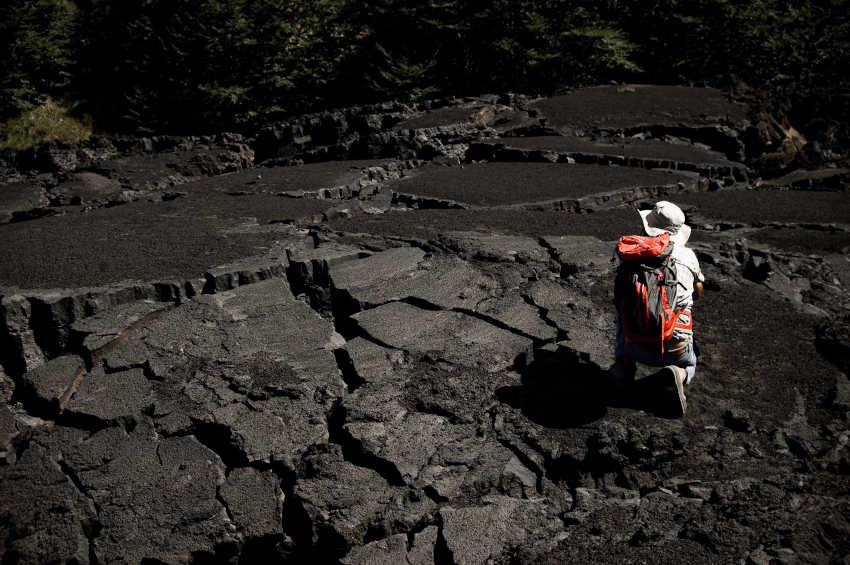 At the caldera floor
ADDITIONAL INFO
Etna hike is operated in English, for other languages, please contact us.

Participants should wear trekking shoes suitable for rugged terrain or jogging shoes at least, and a wind-proof jacket. A rucksack can be usefull, too.

This excursion is graded MODERATE. However, weather conditions apply (strong winds, cold and snow, even in summer).

All participants must be in good health (no asthma, no respitory disorders, no heart problems, no blood pressure problems).

Period: This tour will not take place in winter time
RATES
RATES for individuals and small groups

Persons

1
person
2 persons
3-4 persons
5 - 8 persons
9 - 15
persons

Price per Person

19

5 Euro
Eur 1

2

5
Eur

8

5

Eur 65

Eur 55

GROUP RATES and T.O.
Price Includes:
Tour escorted by a qualified geologist/volcanologist from the VolcanoTrek Team and naturalistic local tour guide

Equipment necessary for cave excursion (safety helmet + electric head light)

Pick-up and drop-off at your hotel or at any other location.

Food and drinks-Lunch Break with delicius sicilian food and wine. Please let us know your diet (vegetarian..)

Complimentary information booklet and CD

Full accommodation search assistance
Pricing Policy:
30% discount for children under 10 years

Prices are in Euro and are subject to change
PAYMENT and BOOKING Travel Voucher

To book email: info@volcanotrek.com or fill our Booking Form
T: (39) 333 2096604

For every confirmed booking you will be required to print a voucher which is presented at the destination. You will receive a link to your voucher via email once your booking is confirmed.


BACK TO TOP