You Are IN

»

Home

>

Mount Etna Tours and Excursions

>

Etna Craters Excursion - Hike To The Etna Top Summit
---
ETNA CRATERS EXCURSION
HIKE TO THE ETNA TOP SUMMIT




Visitors standing on the crater rim during an Etna summit craters excursion

.
Excursion name: Etna Summit Trekking
Typology: Group Trekking Tour (see details below)
Difficult: MODERATE
Duration: Full Day - 8.30 hours (8.30-17.30)
When: since May until November
Price: 155.00 Euro per adult. NO HIDDEN COSTS!


Etna craters excursion itinerary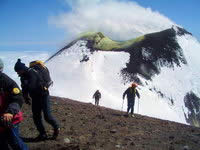 Hike to the Etna summit craters
Etna craters excursion will start in the morning from your accommodation at about 8.00 O' clock. It's need to be at Rifugio Sapienza (at 1950m a.s.l. - southern slope) at 9,30. Having met your guide the excursion begins taking the cable car to reach quickly and easily the arrival station at 2500m s.l on the western flank of the Montagnola. There we'll take the 4WD bus and after twenty minutes will arrive at Torre del Filosofo (2900m) at the foot of the main craters (3340m).

From there (2900m), climb to the summit (3315m, ca. 1-1.5 hours climbing, 300-400mm difference). The exact route of ascend and which of the summit craters can be visited will depend on weather, volcanic activity etc. Spend ca.1-2hours in the summit region, descend to the point of departure (optional break at 2900m to observe the 2002-2003 eruption volcanic cones) reaching Torre del Filosofo.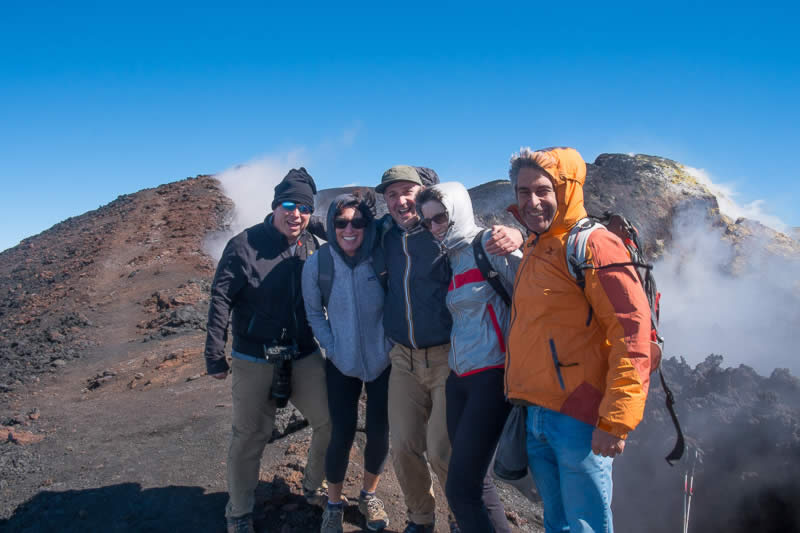 At the top during the Etna craters tour standing on Bocca Nuova crater rim.
We'll leave the torre del Filosofo (2900m) and will descend the southern volcano slope crossing the ash desert created by the last eruptions down to the 2001 explosive vent and to the Montagnola where the huge valle del Bove caldera is visible. Being back to the cable car arrival station (2560ms a.s.l.) will take it to reach the Rif. Sapienza area. Arrival time 4.30pm. Back to your hotel. End of Etna crater tour.
Highlights of Etna craters tour:
Volcano top | Eruptive fracture of 2001 - vents and lava field | Eruptive vents and lava flow of 2002-03 eruption (south side) | "Valle del Bove" Caldera

Geological and Nature Highlights:
main active craters, fumarolic activity, eruptive fissures, cinder cones, spattern cones, volcanic bombs, aa lavas.
D

etails
| | |
| --- | --- |
| Tipology: | Hike/Trekking |
ADDITIONAL INFO
Service is operated in English. For other languages, please contact us.

Participants should wear trekking shoes suitable for rugged terrain or jogging shoes at least, and a wind-proof jacket. A rucksack can be usefull, too.

Etna craters tour is graded MODERATE. However, weather conditions apply (strong winds, cold and snow, even in summer).

All participants must be in good health (no asthma, no respitory disorders, no heart problems, no blood pressure problems).
RATES
GROUP TOUR R
ATE
(You will
be
join
ed
to
a group
)



155

Euro per person
(including

mountain guide service to the main craters + cablecar and 4wd bus ticket + pick-up and drop-off from/to your accomodation

!)

NO HIDDEN COSTS!


Price Includes:
Certified VolcanoTrek mountain guide service to the main craters.

4wd bus one way ticket + cable car return ticket

Pick-up and drop-off from/to your accomodation (in Catania or around).
Price doesn't Includes:
Pricing Policy:
discount for children under 10 years

Prices are in Euro and are subject to change
PAYMENT and BOOKING Travel Voucher

To book email: info@volcanotrek.com or fill our Booking Form
T: (39) 333 2096604

For every confirmed booking you will be required to print a voucher which is presented at the destination. You will receive a link to your voucher via email once your booking is confirmed.
You are going to visit a high mountain and a very active volcano, so the possibility to climb up to the top will depend on daily weather or volcanological conditions, because of that the mount Etna summit crater excursion itinerary can be modified on mountain guide discretion.